Hello there, my name is Richard Clewes and I am a director of Imperial Metal Polishing Ltd and I am Black Country born and bred.
After leaving school in 19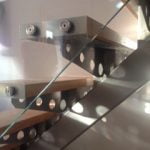 83 at the age of 15, I worked in a powder coating plant, and on a zinc plating line. After approximately 3 years I started work in a metal polishing workshop. This is where I stayed for approximately 12 years, during this time I learnt all the skills required in polishing all types of metal. Several events made me realise that it was time to move on and Imperial was born.
More recently we have started a Aqua Blasting or Vapour Blasting Service that is great for restoring old motorcycle parts including Yokes, Engine cases etc..
Imperial Metal Polishing prides itself on reaching targets, so when you place an order with us, our target is to achieve the quality of finish within the timescale that we have agreed with you.
Over the last 20 years we have built up a loyal base of customers up and down the country, and can offer a local and national service.
Sally is my co director at Imperial and she deals with all the administration and paperwork side of things, as well as running her own business as a holistic therapist.